California fire prompts 6,000 residents to flee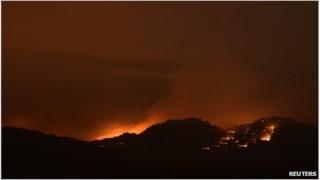 About 6,000 people have been told to flee their homes as a wildfire rages near the desert resort of Palm Springs, California, officials said.
Almost 3,000 firefighters are tackling the so-called Mountain Fire, which is only 15% contained after four days.
Nearly 230 fire engines and 27 aircraft have been sent to fight the blaze, which has razed 22,800 acres (9227 ha) of the San Bernardino National Forest.
More than 4,100 homes are at risk, a forest service spokesman said.
The towns of Idyllwild and Trails End, south-west of affluent Palms Spring, are near the most active parts of the fire.
"These two areas will be the focus of today's firefighting activities as both air and ground crews work to slow the rate of spread of the fire," said Forest Service spokesman John Miller.
The blaze comes three weeks after 19 firefighters from an elite fire unit were killed by a rapidly expanding fire in the neighbouring state of Arizona.
How wildfires spread
A fire needs fuel, oxygen and heat to burn. The fire can spread rapidly in the very hot, dry conditions, fanned by strong winds
The fastest-moving and most dangerous part of the fire is known as the "head". Areas ahead of the fire are warmed as it approaches and flying embers blown by the wind spark spot fires, which cause it to leap further ahead
Some vegetation or fuel will burn quicker than others and this creates "fingers" of flame which, in turn, create pockets of land surrounded by fire, making it harder to tackle
Fires travel faster uphill than downhill, as the heat and smoke rise, heating areas higher up the hill and wind currents also tend to blow uphill, pushing the flames further. Burning embers may roll downhill, starting new fires