Arizona's deadly Yarnell wildfire nears endgame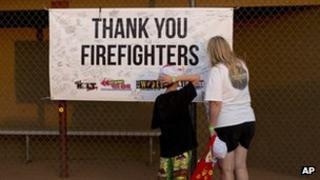 An Arizona wildfire that killed 19 firefighters is 80% contained and officials are scaling back the number of crews tackling it.
Residents of Yarnell, where the blaze began, are expected to be allowed to return to their homes over the weekend.
The fire has destroyed more than 100 homes and razed 13 sq miles (33 sq km), say the authorities.
It has been the deadliest blaze for US firefighters since at least 25 men died in 1933 battling a fire in Los Angeles.
On Friday, 550 firefighters were tackling the Yarnell Hill conflagration, down from 680 the day before.
Post-mortem results
The crews were building more fire lines amid calm weather, with an eye on forecasts that winds may increase over the weekend.
Utility firms are trying to restore services in Yarnell, checking for leaks in gas tanks.
The evacuation order for nearby Peeples Valley was lifted on Thursday evening.
US Vice-President Joe Biden is expected to be among thousands of mourners attending a memorial for the 19 men on Tuesday in the nearby town of Prescott, where they were based.
Residents honoured the elite Granite Mountain Hotshots with a fireworks show during the town's American Independence Day celebrations on Thursday.
An initial post-mortem examination report released the same day found the men had died from accidental "fire-related injuries".
These included burns, carbon monoxide poisoning, oxygen deprivation, or a combination of the factors.
Their bodies, which are in Phoenix for the post-mortem examinations, are to be taken to Prescott on Sunday.
Fire investigators are expected within days to release a preliminary report on how the men became trapped by the flames.
How wildfires spread
A fire needs fuel, oxygen and heat to burn. The fire threatening the town of Yarnell was started by lightning and spread rapidly in the very hot, dry conditions, fanned by strong winds
The fastest-moving and most dangerous part of the fire is known as the "head". Areas ahead of the fire are warmed as it approaches and flying embers blown by the wind spark spot fires, which cause it to leap further ahead
Some vegetation or fuel will burn quicker than others and this creates "fingers" of flame which, in turn, create pockets of land surrounded by fire, making it harder to tackle
Fires travel faster uphill than downhill, as the heat and smoke rise, heating areas higher up the hill and wind currents also tend to blow uphill, pushing the flames further. Burning embers may roll downhill, starting new fires