Judge rejects Fort Hood suspect Nidal Hasan's defence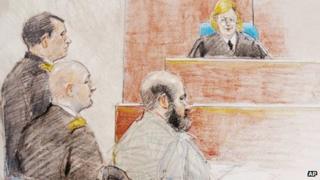 A US military judge has ruled an Army psychiatrist accused of the 2009 massacre at Fort Hood cannot claim he killed to protect Taliban leaders.
Col Tara Osborn ruled there was no evidence of "any immediate threat to others" from US soldiers on base.
Maj Nidal Hasan is defending himself against 13 counts of premeditated murder and other charges. He had sought to use a "defence of others" argument.
If convicted, he faces execution or life in prison without parole.
Maj Hasan, a US-born Muslim of Palestinian descent, also faces 32 counts of attempted premeditated murder for those wounded in the shooting.
Witnesses say on 5 November 2009, Maj Hasan rushed into a crowded medical building at the vast Army base in Texas where deploying soldiers awaited tests and vaccines, shouted a Muslim benediction, and opened fire with a handgun.
His "defence of others" argument would have required him to prove his actions protected people from immediate danger or death.
Health problems
In an earlier hearing, Maj Hasan, 42, argued the "leadership of the Taliban in general" was in immediate danger from the soldiers, who were about to deploy to Afghanistan.
Not everyone killed in the shooting was headed to Afghanistan. Pte Francheska Velez, who was pregnant, had just returned from Iraq. Michael Grant Cahill, who tried to stop the gunman with a chair, was a physician assistant who worked in the building.
In her ruling on Thursday, Col Osborn also said the legitimacy of the Afghanistan war would not be up for debate at the court martial.
Opening arguments are expected in July. Maj Hasan has asked for a three-month delay to prepare his defence.
Maj Hasan was left paralysed from the abdomen down when police shot him during the attack. His health problems are expected to slow the progress of the trial, as doctors have testified he cannot sit upright for more than 12 hours a day.
Col Osborn also warned Maj Hasan that representing himself would be "a far more physically taxing enterprise than you can imagine".