Obama shuffles foreign policy team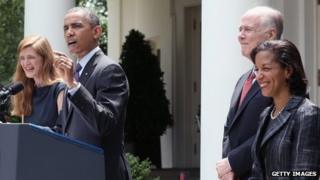 US President Barack Obama has named US ambassador to the UN Susan Rice as his national security adviser.
In a second-term shuffle of his foreign policy team, the president also nominated human rights researcher Samantha Power to replace Ms Rice.
Ms Rice will take over from Tom Donilon, who will step down in July.
She was once seen as a contender for the job of secretary of state, but was forced to withdraw amid opposition from Republicans in Congress.
The criticism - dismissed by the White House - centred on her remarks after an attack on US diplomats in Libya.
'Champion for justice'
"Susan is the consummate public servant, a patriot who puts her country first," Mr Obama said at the White House.
He said Ms Rice was a "fierce champion for justice and human dignity" and praised her defence of Israel and her support for an independent South Sudan during her time at the UN.
On Wednesday, Mr Obama nominated Ms Power, a Harvard professor and former White House adviser, to replace Ms Rice as the US ambassador to the UN.
Mr Obama said his national security team was "extraordinarily dedicated to America".
Ms Power, 42, left her White House adviser role earlier this year. Her nomination will require Senate approval.
She was born in Ireland and wrote a Pulitzer Prize winning book on America's foreign policy response to genocide.
The personnel shift comes as Mr Obama prepares for a summit in California later this week with Chinese President Xi Jinping.
'A partner'
Mr Donilon, who is due to accompany the president on the trip, said it had been the "privilege of a lifetime" to serve in the Obama White House.
He praised Mr Obama's thoughtfulness as a leader and said that to people around the world, "you send a clear message that America wants to be their partner".
Ms Rice, 48, dropped out of the running to be secretary of state under sustained Republican attack for her suggestion the armed assault on the US compound in the city of Benghazi, Libya in September 2012 sprang from a spontaneous anti-American protest.
That account was later proven to be incorrect.
The attack left four Americans dead, including the US ambassador to Libya, Christopher Stevens.
Mr Obama later nominated John Kerry for the secretary of state job, but he has always defended Ms Rice - seen by US analysts as his close political ally.
Ms Rice's new post as national security adviser does not require Senate confirmation.
Mr Donilon, 58, is expected to remain in the role until July to oversee Mr Obama's visits to Africa and Europe.