Obama names three to top court, challenging Republicans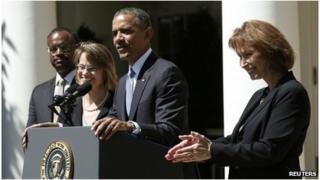 US President Barack Obama has nominated three lawyers to a top federal appeals court in Washington DC, while daring Republicans to defy him.
Flanked at the White House by the trio, he urged their swift confirmation to the Washington appeals court.
His appointees, two women and a black man, reflect his administration's commitment to bring diversity to the mainly white, male federal bench.
But a top Senate Republican said there was no need to fill the vacancies.
"What I'm doing today is my job; I need the Senate to do its job," Mr Obama said in the Rose Garden on Tuesday, as he announced his nominees to the bench of what is sometimes called the second-highest court in the US.
'Political obstruction'
The Democratic president accused Senate Republicans of blocking his nominees.
"My judicial nominees have waited three times longer to receive confirmation votes than those of my Republican predecessor," Mr Obama said.
He added: "So this is not about principled opposition. This is about political obstruction."
But the senior Republican on the Senate judiciary committee, which oversees such nominations, is not expected to wave through the trio.
Sen Charles Grassley of Iowa has introduced legislation that would strip the court of the three vacant seats. He argues that the bench does not have enough work for 11 judges.
Mr Obama's nominees are Patricia Millett, a Washington lawyer who regularly argues before the US Supreme Court; Cornelia Pillard, a professor at the Georgetown University Law Center; and Robert Wilkins, a judge on the US District Court for the District of Columbia.
Correspondents say the confirmation of all three nominees would shift the balance of power on the federal appeals court in Washington.
It is currently composed of four Democratic appointees and four Republican appointees.
Last month the Senate confirmed the appointment of Sri Srinivasan to the same court.
An earlier nominee, Caitlin Halligan, waited for more than two years for a confirmation vote before withdrawing her name in March.