Yanira Maldonado freed from Mexican jail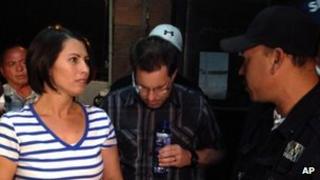 A US woman has been freed after spending a week in a Mexican jail fighting drug-smuggling charges.
Yanira Maldonado, 42, left the jail near Nogales, Mexico and crossed into the US state of Arizona on Thursday.
Mrs Maldonado had been returning to the US from a family funeral when nearly 12lb (5.4kg) of marijuana was found under her coach seat at a checkpoint.
She denied the cannabis was hers, and the charges were dismissed when a court ruled prosecutors lacked evidence.
Her husband said he was arrested first, but Mrs Maldonado pleaded to stay with him and officials arrested her instead.
Mrs Maldonado subsequently gave a tearful jailhouse interview to a US television station, and at a press conference after her release, she thanked journalists for helping to expedite her case.
Checkpoint searches
"Many thanks to everyone, especially my God who let me go free, my family, my children, who with their help, I was able to survive this test," Mrs Maldonado said.
But she pledged to return to Mexico: "It's not Mexico's fault. It's a few people who did this to me."
According to local news station KPNX-TV in Phoenix, Mrs Maldonado's conditions in prison improved as her situation became more widely publicised.
Mrs Maldonado and her husband Gary were reportedly seen in security footage boarding the coach in the Mexican city of Los Mochis, on their way home to Phoenix, Arizona.
They carried blankets, a purse and bottles of water.
The coach passed through at least two security checkpoints without a problem, but at a third checkpoint in Querobabi the passengers were ordered off the bus during the search.
According to Gary Maldonado, a man sitting behind him ran away while the search was under way.