Kerry Kennedy drug-driving case to go ahead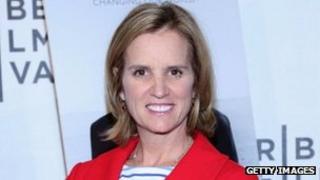 A US judge has refused to dismiss a drug-driving case against Kerry Kennedy, the daughter of late Senator Robert F Kennedy.
"Those in positions of power must not be immune from prosecution," Justice Elyse Lazansky said.
Ms Kennedy, 53, was arrested last July after her car swerved into another vehicle. A small amount of a sleeping drug was found in her blood.
She said she had accidentally taken a sleeping pill instead of medication.
Ms Kennedy, a human rights activist and writer, also argued that the continuation of the case would seriously harm her reputation.
But at Tuesday's brief hearing in North Castle Town, New York state, Justice Lazansky rejected her request.
She said that other "gifted, powerful, and wealthy" celebrities had faced criminal charges while continuing to serve the public.
The judge stressed that the "the law applies equally to all defendants".
Ms Kennedy is now due to appear in court on 8 October, and her lawyers pledged to continue to fight the case.
Ms Kennedy is one of the 11 children of Senator Kennedy, and the ex-wife of New York Governor Andrew Cuomo.