Oklahoma tornado: How do storm warnings work?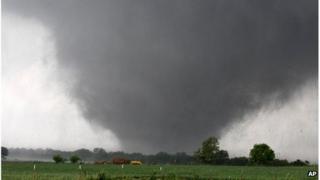 The tornado that tore through the suburbs of Oklahoma City put to the test weather warnings that have become more precise and generous over time, but remain an inexact science.
"I would say that the warnings were as early as possible for this particular type of event," John Hart of the National Weather Service's (NWS) Storm Prediction Center in Oklahoma told the BBC.
"The people here in Oklahoma are very weather savvy and they know about tornadoes and so forth, but unfortunately when it's a horrible event like this there's just only so much you can do to let people know."
From the time the storm formed to the time it produced a tornado 30-40 minutes elapsed.
It was 16 minutes before the tornado touched down at 15:01 local time (20:01 GMT) on Monday that the Storm Prediction Center provided Moore - the worst hit suburb - with a warning, spokeswoman Keli Pirtle told Reuters. That alert was upgraded to an emergency warning five minutes before the storm hit.
The average warning time for tornadoes is 8-10 minutes.
The NWS gathers information about storms from radar and satellites, but since the 1970s it has also relied on a network of volunteer severe weather spotters who number about 290,000 across the US. The storm spotters play a critical role because they can see things that radar and other technological tools cannot.
Local weather authorities advise people to listen to the National Oceanic and Atmospheric Administration's (NOAA) Weather Radio - which broadcasts continuously, repeating updated messages every three to five minutes - or to tune in to local TV or radio.
The NWS does not send emails, mainly because they are not guaranteed to arrive or be read in a timely manner. Nor does it provide phone alerts, though a number of private companies do.
"The television stations here in Oklahoma, because we have a lot of tornadoes, they're telling you exactly where it is, what intersection of two streets, and where it's headed and how much time you have," said Mr Hart.
"The science is getting much, much better. But we can't stop the devastation."
The NWS advises people to treat detailed forecasts of time and location with caution, warning that because of the way radar works and storms behave, times and locations can be off by several miles or minutes.
If one cannot get out of the path of a tornado, the NWS summarises its protection advice as Get In, Get Down, Cover Up: get inside - as close to the centre of the building as possible, as low as possible, and protect oneself from flying debris with pillows, blankets, coats and helmets.
But Mr Hart noted that sheltering does not always work. "Whenever one of the big ones happens the only thing you can do is get underground in a basement, which we don't have in Oklahoma - or get out of its way, which is a very dangerous thing to try to do - to get in your car and get out of the way.
"But that's what an awful lot of people did and it saved their lives."
One survivor in Moore, Ricky Stover, described how he had watched the cellar door being ripped open before he was hit by flying glass and other debris. "We thought we were dead, to be honest," he said.