Obama chief of staff 'knew of IRS inquiry' in April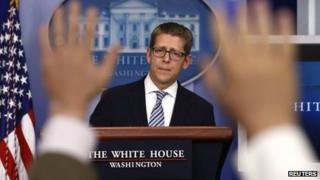 Senior White House aides were informed last month of an inquiry into the US tax agency's targeting of conservative political groups, an official has said.
President Barack Obama himself was not informed, spokesman Jay Carney said.
Officials at the Internal Revenue Service (IRS) have apologised for mistakes ahead of the 2012 election but say there was no political motivation.
Republicans have sought to use the matter to discredit the president just months into his second term in office.
On Monday, Mr Carney said that Mr Obama's chief of staff Denis McDonough was informed in April of an investigation under way by the treasury department's inspector general.
The revelation expands the circle of Obama aides who were made aware of the IRS affair before it was first widely reported on 10 May.
Mr Carney said Mr McDonough "appropriately" decided not to tell the president because while the inquiry's broad findings were known, they were subject to change as it remained ongoing.
And Mr Carney said the White House took no action to intervene in the investigation.
"The cardinal rule... is that you do not intervene in an independent investigation, and you do not do anything that would... give such an appearance, particularly when the final conclusions have not been reached," he said on Monday.
Mr Carney said last week that the top White House lawyer, Kathy Ruemmler, was informed that the inspector general's investigation was under way in April, but he did not mention that more senior officials such as Mr McDonough knew.
Heavy workload
In 2010-12, the IRS was inundated with new applications from groups seeking tax-exempt status, after the US Supreme Court loosened restrictions on political spending by organisations unaffiliated with candidates' campaigns.
According to IRS officials and the inspector general's report, in 2010-12 staff members at an IRS office in Cincinnati, Ohio used keywords such as "Tea Party" and "patriot" to select organisations for extra scrutiny.
The Tea Party is a loosely organised movement of anti-tax conservatives, and in the American political lexicon, "patriot" can indicate a conservative orientation.
The treasury department inspector general for tax matters has said he had found no evidence the IRS had acted under political pressure from the White House, and officials have said the practice was an effort to handle the heavy workload.
Two top IRS officials have resigned over the matter, which Mr Obama has denounced as an unacceptable intrusion into citizens' political activities.
The FBI has launched a criminal inquiry. Congress has already held one hearing into the matter and more are planned.