Car hits crowd at Virginia parade, 60 injured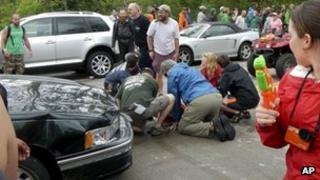 Up to 60 people were hurt when a car hit a crowd during a parade in the US state of Virginia, officials say.
They say more than 10 people have been taken to hospital in a serious condition from the small town of Damascus.
The crash happened at about 14:30 local time (18:30 GMT) during an annual festival celebrating the Appalachian Trail.
US media reports suggest the driver may have had a medical condition.
The car appeared to come from a side street, hitting the crowds, according to the Associated Press news agency.
People were screaming for the driver to stop, but the vehicle reportedly went on for another 30m after hitting the crowd.
Witnesses said a number of people then rushed to the car and eventually managed to lift it off those trapped underneath.
The car had a disabled person's parking sticker, reports say.