Hofstra student shot dead in New York home invasion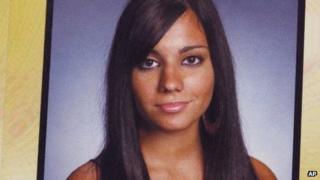 A university student has died after being fatally shot when a masked gunman burst into her home during an apparent attempted robbery in New York state.
Andrea Rebello, 21, was at her Long Island home near the campus with twin sister Jessica and other Hofstra University students when the suspect rang the door in Friday's early hours.
The intruder allowed one woman in the house to leave and she called police.
The suspect was also killed, apparently in an exchange of gunfire with police.
Ms Rebello was in her third year of university, studying public relations, Hofstra University said.
"It's my daughter, my baby daughter," a crying Fernando Rebello told the Journal News newspaper outside his home on Friday. "She was so beautiful. I'm so confused. I don't know what to do."
According to local media, three women and a man lived at the California Avenue residence.
Once the suspect forced his way into the house, he is reported to have allowed one of the women to go to withdraw cash from a bank machine. She then alerted the authorities.
According to reports, one police officer described a scene resembling a hostage situation, with the gunman pointing a weapon at the victims' heads.
It is not clear who fired the fatal shots.
"It sounded like a bunch of drunk college students on a Thursday night and then it just got very loud," neighbour Victoria Dehel told the New York Times.
"It didn't sound good at all. I turned to my boyfriend and I said, 'I think someone just got murdered.' It was awful."
In a statement, Hofstra's president, Stuart Rabinowitz. said graduation ceremonies, scheduled for this weekend, would go on.
"The accomplishments of our graduates must be recognised, and together our community will heal and find the strength to move forward," he said.