IRS screening of conservative groups 'not partisan'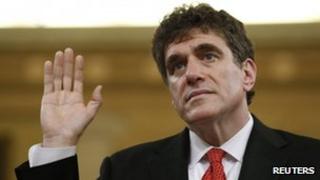 Two senior US tax officials have denied the extra scrutiny given to conservative groups seeking tax exemptions ahead of the 2012 election was motivated by partisan bias.
Outgoing Internal Revenue Service head Steven Miller told a congressional hearing the "mistakes" were an effort to handle the flood of applications.
And a watchdog official said he found no evidence of outside pressure.
But a top Republican said the practice amounted to "political intimidation".
'No place for partisanship'
Mr Miller and another top staff member in the Internal Revenue Service (IRS) have resigned over the matter.
Democratic President Barack Obama has denounced the practice as unacceptable and Attorney General Eric Holder has said the FBI has launched a criminal inquiry.
The hearing in the House ways and means committee came at the end of a difficult week for the White House, which has also faced new questions about a deadly assault on the US diplomatic mission in Libya and fended off attacks on the seizure of reporters' phone records.
Friday's was the first in a series of congressional hearings on the tax affair - correspondents say Republicans hope to use it to discredit Mr Obama just months into his second term.
"I want to apologise on behalf of the Internal Revenue Service for the mistakes that we made and the poor service we provided," Mr Miller told the panel.
"Partisanship - and even the perception of partisanship - has no place at the Internal Revenue Service."
'Culture of cover-ups'
J Russell George, the treasury department inspector general for tax administration, told the committee that he had not seen evidence IRS officials were under political pressure to target conservative groups.
But leading Republicans on the committee said the misconduct was not a mere management lapse.
"The reality is this is not a personnel problem. This is a problem of the IRS being too large, too powerful, too intrusive and too abusive of honest, hardworking taxpayers," House ways and means committee chairman Dave Camp said at the opening of Friday's hearing.
The Michigan Republican said the affair appeared to be just one case of a "culture of cover-ups" in the IRS.
"It seems like the truth is hidden from the American people just long enough to make it through an election," Mr Camp said.
While Mr Obama's Democrats have been reluctant to defend the tax agency, the senior Democrat on the committee, Sander Levin, warned his colleagues not to allow legitimate inquiries into problems at the IRS to devolve into a political brawl.
For his part, Mr Obama attempted to refocus on the economy with a trip to Baltimore, Maryland in which he said lawmakers should spend their time on helping people get back to work.
"Our focus cannot drift," Mr Obama said.
The IRS has acknowledged that beginning in 2010, staff in a Cincinnati, Ohio, branch office delayed the filings for tax-exempt status of groups that had words such as "tea party" or "patriot" in their names or that otherwise indicated their conservative orientation.
Mr Miller testified on Friday that while the practice of maintaining a list of keywords that flagged conservative groups for extra review was "intolerable", it was a mistake and had merely been put together by civil servants trying to work more efficiently.
The practice of extra screening began in response to a Supreme Court ruling that loosened campaign finance rules, Mr Miller said.
During questions, the outgoing IRS head said the agents did not use search words associated with liberal causes - like "progress" or "organising".
The number of applications from so-called "social welfare" groups seeking tax-exempt status nearly doubled from 2009-2012 to 3,300 a year, Mr George's report found.
Under US tax law, the groups were entitled to a tax exemption so long as campaigning was not their "primary activity". Amid reports some of the groups were violating that threshold, the IRS deemed some level of review appropriate.
Delays
The list of watch words was assembled by a "determinations unit" based in Cincinnati, and there seemed to be little or no supervisory review of the list, inspector general Mr George told the committee.
"The determinations unit requested unnecessary information because of a lack of managerial review, at all levels," Mr Russell said.
"We concluded that determinations unit specialists lacked knowledge of what activities are allowed."
The IRS is an independent agency within the treasury department.
Mr George's investigation, revealed this week, found that 296 groups had been subjected to additional auditing. In those cases the IRS may have asked for lists of donors, the groups' positions on a range of issues, and whether the groups' senior members intended to run for public office.
Many of the applicants faced considerable delays in obtaining tax-exempt status, but none were turned down, he added.
In addition to Mr Miller, Joseph Grant, commissioner of the IRS's tax-exempt and government-entities division, said on Thursday that he was stepping down within a month.