'Hatchet' hitchhiker Kai McGillvary on murder charge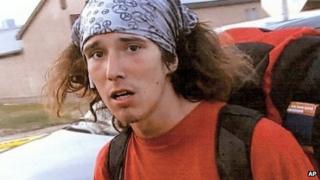 A US hitchhiker who became a brief internet sensation earlier this year has been charged with murder.
Caleb Lawrence McGillvary, 24, is accused of killing 73-year-old lawyer Joseph Galfy with whom he was seen in and around New York.
Prosecutors say Mr Galfy was bludgeoned at his home in New Jersey on Sunday.
Caleb McGillvary, known as Kai the Hitchhiker, became an internet hero in February with interviews explaining how he used a hatchet to stop an attacker.
In animated, profanity-laden television interviews, he described how he had pulled a hatchet from his backpack after the driver with whom he had hitched a lift drove over a utility worker and then threatened a woman in Fresno, California.
"No matter what you done, you deserve respect, even if you make mistakes you're loveable," he began one interview by saying.
Arrested in Philadelphia
Joseph Galfy's body was found on Monday after he failed to turn up for work at his law firm. An autopsy found that he had died from blunt force trauma, prosecutors said.
Caleb McGillvary was arrested on Thursday at a bus station in Philadelphia and charged with killing Mr Galfy.
The authorities said the two men were spotted together in Times Square and at a train station in New Jersey in the days before the lawyer's death.
``I believe that everyone is a little safer with this person off the streets," Union County Prosecutor Theodore Romankow said.
Caleb McGillvary is expected to be moved to a jail in New Jersey in the next few days. His bail has been set at $3m (£2m).