Ohio man convicted by paralysed victim's blinks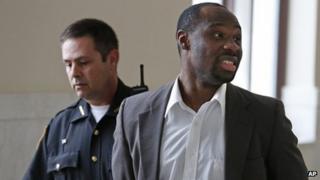 A US man has been convicted of murder on the evidence of his paralysed victim, who identified him by blinking as he lay dying in hospital.
Ricardo Woods, 35, fatally shot David Chandler, 35, in the head and neck in Cincinnati, Ohio, in October 2010.
The trial saw a video of Chandler blinking to identify Woods as his attacker, from a photo shown to him by investigators at his bedside.
Defence lawyers said they would appeal against the guilty verdict.
Chandler blinked three times when police showed him the photo of Woods, asking if this was the man who had shot him as he sat in a car.
Mistaken identity defence
He again blinked three times "clearly, intentionally and decisively" when asked if he was sure, prosecutors told the trial.
The victim, who was on a ventilator, died about two weeks after the police interview.
Judge Beth Myers had watched the 17-minute video and said that she found the identification reliable.
She noted that Chandler made pronounced, exaggerated eye movements, not involuntary blinks.
A doctor who treated the victim also testified that he had been able to communicate clearly.
But the defence insisted their client had been a victim of mistaken identity.
They argued that Chandler's condition, and the drugs used to treat him, had affected his ability to understand and respond to police.
They also pointed out there was no DNA evidence, fingerprints or weapon to link Woods to the crime.
However, the trial also heard that a prison informant said Woods had admitted to him that he shot Chandler.
Woods, who protested his innocence as he was led from court, faces life in jail when sentenced next month.