Jodi Arias can face death penalty, jury rules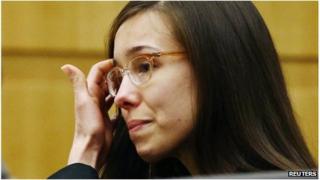 Jurors in the case of a California woman found guilty of killing and mutilating her ex-boyfriend have agreed she is eligible for the death penalty.
They found that Jodi Arias, 32, convicted last week of premeditated murder, had killed Travis Alexander in an especially cruel and heinous manner.
The ex-waitress stabbed him multiple times and shot him in June 2008.
The sensational and salacious trial has dominated American cable news coverage for months.
Wednesday's jury decision was part of the so-called aggravation phase of the trial.
'Fought for his life'
The case now moves into its final act, when prosecutors will call Alexander's family and other witnesses in an effort to convince the jurors that Arias should face the death penalty.
Arias, who spent the weekend on suicide watch before being transferred back to jail, appeared to fight back tears during most of her latest court appearance.
The medical examiner who performed the post-mortem examination testified on Wednesday that Alexander had fought for his life during the frenzied attack by Arias.
The family of Alexander, a 30-year-old Mormon motivational speaker and salesman, wept during the evidence.
Arias stabbed and slashed Alexander nearly 30 times, shot him in the forehead and slit his throat from ear to ear, leaving him nearly decapitated, in his suburban home in Phoenix, Arizona.
Then she dragged his body into his shower, where friends found him about five days later.
Arias initially denied any involvement, telling authorities masked intruders had killed him.
But she later said Alexander had attacked her following a series of sexual encounters that day, slamming her on to a tile floor. She said she escaped and shot him in self-defence using a gun he kept on a shelf.
She said she had no memory of stabbing him, but acknowledged she had tried to clean the crime scene.
Prosecutors portrayed Arias as manipulative and jealous.