Abortion provider Kermit Gosnell sentenced to three life prison terms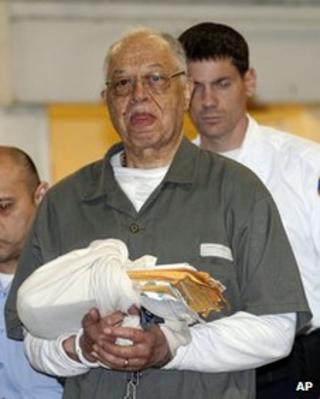 An abortion doctor convicted of killing three babies by cutting their spines in illegal late-term abortions has received three life prison sentences.
Dr Kermit Gosnell, 72, of Philadelphia, received a third life sentence a day after two others were handed down.
He waived his right to appeal in a deal to spare him the death penalty. The consecutive sentences mean Gosnell will spend the rest of his life in prison.
The graphic case was seized on by both sides of the abortion debate.
At Philadelphia Common Pleas Court, he was also sentenced to two to five years in prison for the overdose death of a patient.
Gosnell performed thousands of abortions over a career spanning three decades. Officials said his filthy medical practice with unqualified staff netted him about $1.8m (£1.1m) a year.
Former employees of the clinic testified that he had routinely performed abortions past Pennsylvania's 24-week legal limit.
The trial heard how Gosnell, who was convicted on Monday, would deliver babies alive then use scissors to "snip" - as he referred to it - their spines.
Four additional counts of murder were dropped during the trial, with a judge citing a lack of evidence.