US military faces second sex assault case in as many weeks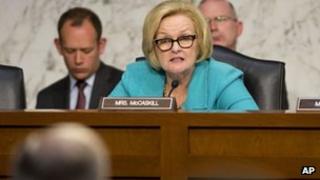 For the second time in as many weeks, a US serviceman assigned to prevent military sex assaults has been accused of sexual misconduct.
The Army sergeant at Fort Hood, Texas, is under investigation for alleged abusive sexual contact, maltreatment of subordinates, assault and pandering.
Last week, an Air Force officer with similar responsibilities was arrested for allegedly groping a woman.
The latest incident has prompted fresh uproar from lawmakers.
No charges have been filed against the sergeant, who was an equal opportunity adviser and co-ordinator of a programme to prevent sexual harassment and assault at the Army's 3rd Corps headquarters in Fort Hood.
'Breakdown in discipline'
But he is under investigation by the Army Criminal Investigation Command.
In a statement, the Army said it would not name the soldier, in order to protect the integrity of the investigation.
Defence Secretary Chuck Hagel is directing all services to retrain and rescreen personnel involved in sexual assault prevention and response programmes, a defence department spokesman said on Tuesday.
The spokesman, George Little, said Mr Hagel was angry and disappointed at "these troubling allegations and the breakdown in discipline and standards they imply".
"This is sickening," Washington state Senator Patty Murray said.
"It's an astonishing reminder that the Pentagon has both a major problem on its hands and a tremendous amount of work to do to assure victims - who already only report a small fraction of sexual assaults - that they are changing the culture around these heinous crimes," Sen Murray said.
'Disturbing'
Only last week, Air Force Lt Col Jeffrey Krusinski was arrested for groping a women in a cark park. A police report said he was drunk and had grabbed a woman's breasts and buttocks. The woman fought him off and called police.
Lt Col Krusinski led the sexual assault prevention and response team for the entire Air Force.
A Pentagon report last week found that the problem was on the rise, with as many as 26,000 military members sexually assaulted last year, according to survey results.
Of those, fewer than 3,400 reported the incident, and nearly 800 of them sought help but declined to file formal complaints.
The Air Force has also been hit with allegations from dozens of female and male recruits that they were sexually harassed or raped by their instructors at Lackland Air Force Base in Texas.
These incidents, as well as the overturning of two guilty verdicts in sexual assault cases by commanding officers, have led to congressional calls for changing the way the Pentagon deals with accusations.
Senator Carl Levin, chair of the Armed Services Committee, says his panel is considering legislation to counter the problem, including changes to the military justice code, and will act on them in June.
"Tragically, the depth of the sexual assault problem in our military was already overwhelmingly clear before this latest highly disturbing report," Sen Levin said.
Senator Kirsten Gillibrand has said she will introduce legislation as early as Thursday on removing chain-of-command influence from prosecution of sex abuse crimes.