Canada navigator guilty of two deaths in 2006 ferry crash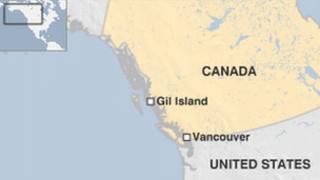 A navigation officer has been found guilty of criminal negligence in two deaths in a 2006 ferry accident off Canada's Pacific coast.
Karl Lilgert was steering the Queen of the North when it ran aground on an island in British Columbia's Inside Passage and sank within an hour.
Passengers Gerald Foisy and Shirley Rosette were never seen again and are presumed drowned.
Lilgert faces up to life imprisonment in a sentencing hearing next month.
But it is unlikely he will receive the maximum penalty, analysts say. He remains free on bail.
After the verdict was read, Lilgert gulped but was otherwise quiet, the Globe and Mail newspaper reported.
During the trial, Lilgert's defence lawyer argued that if the navigator had made a mistake, it was an honest one. Lilgert testified that he had made two course corrections to avoid another vessel before the ship hit Gil Island, and insisted he was actively managing the ship.
But prosecutors called that testimony "completely unbelievable, fabricated and concocted", citing electronic navigation records that showed the vessel had not changed course for 20 minutes before the crash.