Kermit Gosnell case: Jury deadlocked on two counts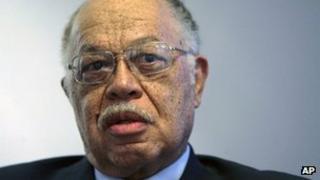 The jury hearing the trial of a Philadelphia abortion provider accused of killing four babies and an adult patient has been unable to reach a verdict on two charges.
Dr Kermit Gosnell is accused of snipping the spines of babies born alive after late-term abortions.
His lawyer says the foetuses could not have survived in utero injections of a heart-stopping drug.
It was not clear on Monday on which charges the jury was deadlocked.
Common Pleas Judge Jeffrey Minehart has asked the jury to continue deliberating to try to reach a unanimous verdict.
If the jury remains deadlocked on the charges, he could accept a partial verdict, leaving prosecutors to decide whether to retry the unresolved counts.
Dr Gosnell faces the death penalty or life in prison if convicted.
'Assembly line'
Several former clinic employees have pleaded guilty to murder and testified against Dr Gosnell and an unlicensed doctor, Eileen O'Neill.
Prosecutors have called the clinic an "assembly line with no regard" for patients, arguing Dr Gosnell was grossly incompetent as an abortion provider and had sought to become rich by employing unqualified staff and keeping a dirty, out-of-date clinic.
During the trial, Judge Minehart threw out three other murder charges involving aborted foetuses, citing insufficient evidence that they were born alive and then killed.
Former staff have testified they saw aborted foetuses move after the procedure on at least two occasions, only to have Dr Gosnell explain the movements as an involuntary response.
Prosecutors have argued Dr Gosnell would not have cut the foetuses' spines or directed his staff to do so unless he feared they had survived abortion.
His defence says that a heart-stopping drug delivered as part of the abortion procedure would have prevented any babies from being born alive.
In closing arguments, defence lawyer Jack McMahon also said that Dr Gosnell was targeted by prosecutors because of his race. The abortion clinic owner is black and served mostly minority women in poverty.
Dr Gosnell's defence has separately argued he was was not responsible for the overdose death of 41-year-old Karnamaya Mongar, a refugee from Nepal, saying that was caused by medical complications.
He also faces 200 charges of violating state abortion law.
Abortions in Pennsylvania are illegal if not performed by a licensed doctor and if done past the 24th week of pregnancy when the mother's life is not in danger.