Mark Sanford wins South Carolina House race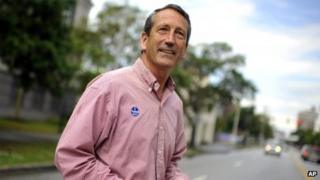 A former South Carolina governor who left office in disgrace after admitting an extramarital affair has won a comeback election to the US Congress.
Mark Sanford defeated Democratic businesswoman Elizabeth Colbert Busch, the sister of a TV comedian, in a special election on Tuesday.
Mr Sanford, a 52-year-old Republican, left the governor's office in 2011 after two terms.
He won 54% to 45%, and Ms Colbert Busch called to concede early in the evening.
"The people have spoken, and I respect their decision," she said in a brief statement on Tuesday evening.
Meanwhile, Mr Sanford was cheered by supporters as he said voters had sent "a messenger to Washington DC on the importance of changing things in that fair city".
The race was competitive, though the district is seen as firmly Republican. No Democrat has represented the district since the early 1980s.
The seat was left vacant when its previous occupant, Tim Scott, was appointed to a vacant Senate seat.
'Sanford fatigue'
Mr Sanford said ahead of the results he would retire from politics if defeated.
"You can go back in and you can ask for a second chance in a political sense once," he said on Tuesday after voting. "I've done that, and we'll see what the voters say."
The former governor, once considered a rising star in the Republican party, saw his political fortunes fall in 2009 when he acknowledged an extramarital affair.
After telling his staff he was hiking the famed Appalachian Trail and disappearing for several days, the then-married governor returned to the state to admit that he had been in Argentina with a mistress.
He was censured by the state legislature and fined $70,000 (£45,000) for the travel expenses - the largest ethics fine in state history. But Mr Sanford defied numerous calls to step down before his term ended in January 2011.
He divorced his wife, Jenny, and is now engaged to the Argentine woman, ex-TV reporter Maria Belen Chapur.
Ms Colbert Busch, 58, is a businesswoman and the sister of television political satirist Stephen Colbert, who raised money for her campaign.
She gained the endorsement of The Post and Courier, a major newspaper in the area, which said she offered "responsible leadership" and was "a welcome tonic" for "Sanford fatigue".
Ms Colbert Busch focused on her business experience during the race, initially refusing to make Mr Sanford's past an issue.
But last week, she reminded voters during a televised debate that Mr Sanford had used taxpayer money to leave the state for personal reasons.
The former governor's attempt at a political comeback was not entirely smooth.
Three weeks before the special election, it was revealed that his ex-wife had filed a court complaint alleging he had entered her house in February without permission, a violation of their divorce agreement.
Mr Sanford said he had been unable to get in touch with her and had been in the house to watch the Super Bowl championship football game with his youngest son. He is due in court on Thursday.
The national Republican party pulled its support from the campaign after the complaint became public.