Suspect's son 'wrote 2004 article about missing girl'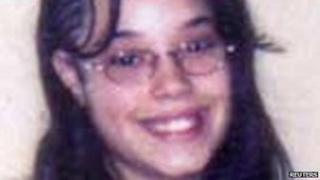 The son of one of three men held over the disappearance of three Cleveland girls reportedly wrote an article in 2004 about one of the victims.
Suspect Ariel Castro's son, Anthony, told WKYC news he had penned the piece for the Plain Press.
He apparently knew nothing about his father's alleged involvement in the case when he produced the article about Gina DeJesus' disappearance.
She was rescued on Monday along with Amanda Berry and Michelle Knight.
The author of the 861-word Plain Press article describes the anxiety felt by the neighbourhood in the aftermath of Ms DeJesus' disappearance.
It outlines the concerns of parents and relatives about sex offenders in the area.
The author writes: "One thing is for certain, however. Almost everyone feels a connection with the family, and Gina's disappearance has the whole area talking."
The article also features an interview with Ms DeJesus' mother, Nancy Ruiz.
She is quoted as saying. "People are watching out for each other's kids. It's a shame that a tragedy had to happen for me to really know my neighbors. Bless their hearts, they've been great."
The Plain Press is a local community newspaper in Cleveland.
It is believed that Anthony Castro was a college student at the time, and wrote the article as part of a class assignment.
He is reported to have been "stunned" by his father's alleged involvement in the case, describing it as "beyond comprehension".
Earlier Ms DeJesus' cousin, Sylvia Colon, told the BBC. "It's been a whirlwind kind of day. It's surreal."
Ms DeJesus went missing aged 14 in 2004, Amanda Berry disappeared aged 16 in 2003 and Michele Knight vanished in 2002 aged around 19.
Their discovery at the home of Anthony Castro's father in Cleveland followed a dramatic bid for freedom by Amanda Berry on Monday, helped by a neighbour.
Ariel Castro is one of three brothers arrested in connection with the case.