Man arrested over alleged Minnesota 'local terror plot'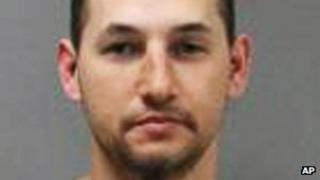 Federal agents in Minnesota say they have foiled a terror plot after arresting a man with pipe bombs, guns and Molotov cocktails in his home.
Buford Rogers, 24, was arrested on Friday and faces one charge of being a convict in possession of a weapon.
The alleged plot, apparently caught in the planning stage, may have been aimed at residents of Montevideo, about 130 miles (209km) west of Minneapolis.
Authorities did not say if Rogers was suspected of acting with others.
"The FBI believed there was a terror attack in its planning stages," said FBI spokesman Kyle Loven.
"We believe there would have been a localised terror attack, and that's why law enforcement moved quickly to execute the search warrant on Friday to arrest Mr Rogers."
The law enforcement agency added it believed the lives of some local residents had been saved as a result of the arrest.
A Romanian AKM assault rifle was among the weapons found at Rogers's mobile home in Montevideo, according to the criminal complaint filed in federal court in Minnesota.
Rogers was previously convicted for a felony and is prohibited from owning a firearm.