Eighteen arrested as Seattle May Day rally turns violent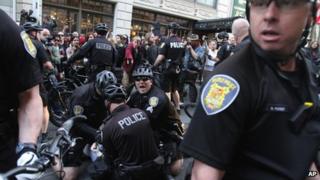 A day of peaceful May Day rallies in the US city of Seattle turned violent after dark, as eight police officers were hurt and 18 people arrested.
Protesters hurled rocks, bottles and asphalt at officers, smashing car and shop windows and tipping over bins.
Police in riot gear responded with "blast ball" grenades that release smoke laced with pepper spray.
Earlier on Wednesday, activists marched through the city centre, promoting worker rights and immigration reform.
"We're a bigger, better city than this," said Seattle Mayor Mike McGinn at a press briefing.
"I'm disappointed that this is the picture the world sees of us."
The police officers suffered mostly scrapes and bruises, although one female officer was hit in the knee with a lump of asphalt, the Reuters news agency reported.
An immigration rally on Wednesday afternoon attracted 3,000-4,000 people, the Seattle Times reported.
The demonstrations had been peaceful throughout the day, but the crowd became rowdy about 20:00 local time (03:00 GMT) as clusters of people, including black-clad anarchists, broke off and began smashing windows of businesses, a courthouse, and cars.
The 150-200 protesters that stayed on for the "non-permitted" protest had scattered by midnight on Thursday.
May Day rallies were held in cities across the US, with thousands turning out in Los Angeles, California and hundreds in Phoenix, Arizona.
The rallies came two weeks after a bipartisan group of senators introduced legislation in Washington that could overhaul US immigration rules.
President Barack Obama has indicated his support for the plan.