Suspect's martial arts studio 'tests positive' for ricin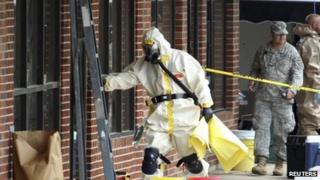 Ricin traces were found at the business of a Mississippi man accused of sending letters laced with the poison to US officials, say prosecutors.
An FBI affidavit says James Everett Dutschke had also ordered castor seeds, which are used to make ricin.
If convicted, the 41-year-old could face up to life in prison and a $250,000 (£161,000) fine.
The Tupelo man has previously denied the charges, and his lawyer would not comment on Tuesday.
Mr Dutschke has been charged with possessing a biological agent with intent to use as a weapon. The former taekwondo instructor is next expected in court on Thursday.
FBI surveillance
Among the items that tested positive for ricin were a dust mask, liquid removed from a drain inside a martial arts studio he had used and a filter containing items vacuumed from the floor.
In the affidavit, FBI agent Stephen Thomason said a surveillance team saw Mr Dutschke remove several items, including the mask, from the studio on 22 April and dump them in a bin nearby.
Soon after the seeds were delivered to Mr Dutschke's home address, Mr Thomason said, someone using the accused's laptop downloaded a publication on safe handling and storage of the poison.
Ricin can be fatal when inhaled, swallowed or injected, although it is possible to recover from exposure.
FBI officials would not say how lethal the ricin from the studio or in the letters were. A Senate official has said it was not in a form that could easily enter the body.
The letters were sent to President Barack Obama, Mississippi Senator Roger Wicker and Judge Sadie Holland on 8 April.
The investigation turned to Mr Dutschke after charges were dropped in April against Paul Kevin Curtis, a 45-year-old Elvis impersonator.
Mr Dutschke and Mr Curtis knew each other, but had fallen out, according to media reports.