TSA proposal to allow knives on planes delayed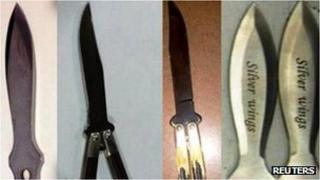 The US transport safety authority has delayed a proposal to allow some small pocket knives aboard US flights for the first time since the 9/11 attacks.
The policy shift, which encountered fierce resistance from the public and the flight attendants' union, was to take effect on 25 April.
The delay was announced by Transportation Security Administration (TSA) chief John Pistole on Monday.
He had said the change would free screeners to focus on other threats.
Last month, Mr Pistole proposed allowing passengers to bring blades shorter than 2.36in (6cm) and narrower than 0.5in in plane cabins.
Also under the new policy, billiard cues, ski poles, and lacrosse and hockey sticks would be allowed in aeroplane cabins in carry-on luggage.
Fixed blades, razors and box cutters would still have been forbidden, the Transport Security Administration (TSA) said.
The TSA said the rules would bring the US into line with international guidelines and offer a better experience for passengers.
But in a letter to TSA employees released on Monday, Mr Pistole said the delay would allow for further consultation with aviation security experts.