North Korea: A test for the Obama doctrine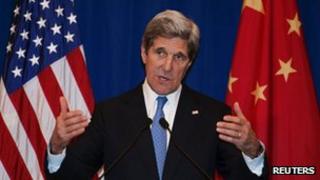 John Kerry's trip to the East as the North Korean crisis unfolds is an important test of his diplomatic skills.
It is also a huge test for some of the most important elements of President Barack Obama's foreign policy - the Obama doctrine, if you like.
At the heart of that doctrine is Obama's determination to act through alliances of the unwilling, or at least extremely reluctant. He wants to turn rivals and even enemies into partners of a sort, when it comes to policing the world.
No country is more important in this regard than China.
He wants to "pivot to Asia" - believing America has focused too much on the Middle East at the expense of the region that will be a growing source of an American prosperity in the future. At least that's the given reason.
I suspect he also is well aware it will be the crucible of the most important ideological and political battles of the future, between dictatorship and democracy, open markets and closed systems. No country is more important in this regard than China.
And of course no country has more influence with North Korea than China.
Critical test
Kerry's visit to Beijing has produced some measure of agreement with the secretary of state claiming that China is "very serious" about the denuclearisation on the peninsula.
China has good reason to warn North Korea, as its Foreign Minister Wang Yi did last week that "the situation's development on the peninsula will not necessarily go according to the ideas and expectations of the DPRK [North Korea".
It is often said that China is North Korea's only ally. It is more remarkable that North Korea is just about China's only ally, at least in the immediate region. That doesn't say much about the soft power of this growing superpower.
Obama's pivot is sometimes seen by China as America not only turning to face the region, but adopting a more aggressive posture as it does so. It fears being encircled and contained by the US, in alliance with countries hostile to its interests.
Before this latest North Korean escalation America beefed up its deployment of marines in Australia and conducted more exercises with the Philippines.
The North Korean crisis not only justifies America moving more hardware into the region, it also pushes fearful allies to welcome America's strong embrace.
It has prompted China's old enemy, Japan, to move its missiles around and has given Japan's new prime minister the excuse he was looking for to challenge constitutional constraints of the growth of military power.
A long-term resolution to North Korea's nuclear ambitions would strip much of the rationale from the military part of Obama's pivot. That would be a gift for China, as would the moral kudos that would flow from defusing regional tension.
This moment is a critical test for the world's most important big power relationship, one which may have repercussions for years to come.