Two US children killed as construction site collapses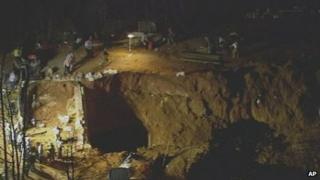 North Carolina rescuers have recovered the bodies of two young cousins buried at a construction site when a wall of dirt collapsed on them on Sunday.
The bodies of the girl, six, and boy, seven, were unearthed from under 24ft (7.3m) of dirt in the town of Stanley.
Emergency officials responded within minutes of an emergency call from the boy's father but could not dig them out, a Lincoln County spokesman said.
Authorities are investigating the purpose of the building site.
Lincoln County Sheriff David Carpenter told the Associated Press news agency his deputies had yet to interview the family but would follow up on neighbours' reports that the man was digging the two-storey pit for a protective bunker.
"They were so distraught we hope to be able to talk to them today and come up with some information on that,'' Mr Carpenter said. "It's a very large hole. It would look to be something like that, but I don't know."
The father had been working with a backhoe on the 20ft by 20ft, 24ft-deep site earlier in the day, Mr Carpenter said.
The children had been retrieving a toy pickaxe when the walls collapsed around 17:00 local time (22:00 GMT) on Sunday.
"There were several thousand pounds of dirt on top of them," Mr Carpenter told the Charlotte Observer newspaper.
Lincoln County spokesman Dion Burleson said crews dug at the site under the assumption the children were alive.
"We've been working a horrific scene here," he said.
Rescue crews could not use heavy equipment because they did not know how deeply the children were buried.
Bradley Jones, a neighbour, told the Associated Press the children often played in the pit when the boy's father was working there.
Mr Jones, who said he works in construction, said there was no structure to support the pit's tall dirt walls and that he questioned the man about the depth of the hole.
"It was dangerous," he said. "There was nothing to reinforce those walls."