Tom Menino steps down after two decades as Boston mayor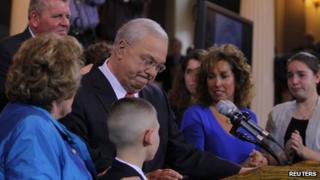 Boston's longest-serving mayor, Thomas Menino, has announced he will not run for re-election after almost 20 years in the city's top office.
"I will leave the job that I love," Mr Menino, 70, told a crowd of hundreds, including staff and supporters.
Mr Menino became mayor in 1993 after his predecessor left to become ambassador to the Vatican.
His decision not to run sets the stage for the most competitive mayor's race in decades.
City Councillor John Connolly announced his candidacy for the city's top job last month, but Mr Menino was still a strong favourite. A poll once found that half of the city's residents said they had personally met him.
In a statement, President Barack Obama praised Mr Menino.
"Boston is the vibrant, welcoming and world-class city it is today because of Tom Menino," Mr Obama said.
"For more than two decades, Mayor Menino has served the city and every one of its residents with extraordinary leadership, vision and compassion."
'Full tilt'
The Boston mayor was in hospital for eight weeks in 2012 with a respiratory infection and a blood clot that was complicated by a spinal fracture and diabetes.
On Thursday, he said he was on the mend, but not enough to keep up with his famously whirlwind schedule.
"I'm back to a mayor's schedule, but not a Menino schedule," he said. "Spending so much time in the neighbourhoods gives me energy... it may not be the only way to lead Boston, but it's the only way for me."
"So I am here with the people I love, to tell the city I love, that I will leave the job that I love."
Earlier, he told a local radio station he plans to go "full tilt" until his last day in office.
Mr Menino said he would not be involved in the campaign to replace him, but asked that "you choose someone who loves this city as much as I have".
When the previous mayor, Raymond Flynn, left office in 1993 after being named ambassador to the Vatican, Mr Menino, then president of the City Council, was automatically elevated to the mayor's job.
He won re-election in 1993, 1997, 2001, 2005 and 2009, mostly by wide margins.
Mr Menino became known for attending to the everyday matters of the city: helping to fix potholes, cleaning streets and changing parking policy, leading to his nickname of the "urban mechanic".
He also created a political machine for allies that handily defeated challengers, including helping Senator Elizabeth Warren campaign across the city.
On Thursday, Sen Warren called him "the best mayor in America" and "the best friend to the neighbourhoods and people of Boston".