Gabrielle Giffords shooting: Arizona files shed new light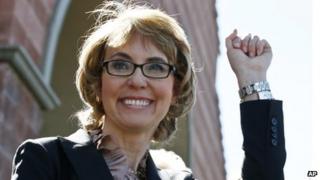 Authorities in Arizona have made public almost 3,000 documents on the deadly shooting that left former Congresswoman Gabrielle Giffords seriously wounded.
The files detail the police investigation into the attack in Tucson in 2011 in which six people were killed and Ms Giffords was shot in the head.
She said they show the "mentally disturbed" shooter, Jared Lee Loughner, should never have had access to a gun.
The documents were held back despite media requests to ensure a fair trial.
He was sentenced last November to seven life terms plus 140 years in jail.
Loughner, 24, killed six people and wounded 13 others at an outdoor political meeting in January 2011.
The 2,700 pages of records, released by Pima County sheriff's department, include police reports and interviews with witnesses and shed new light on how the shooting happened as well as his motive for the attack.
'Outcast'
They also detail his purchase of the gun used in the Tucson attack and growing concern about his mental health in the months leading up to it.
Ms Giffords resigned from Congress in January 2012 to focus on her recovery from serious injury. She has become a prominent campaigner for tighter gun controls in the US.
In a statement on Wednesday, Ms Giffords said: "The details released today regarding the shooting in Tucson reaffirm what this country already knew: the mentally disturbed young man who shot me and murdered six should never have had access to a gun."
In the aftermath of the shooting, Loughner's father Randy told detectives his son was an "outcast" who worried that police were out to get him.
Mr Loughner said his son did not get a mental health evaluation recommended by Pima Community College after it expelled him in October 2010.
"I tried to talk to him, but you can't, he wouldn't let you," the father said.
On the recommendation of college officials, he says he took away and locked up a shotgun belonging to his son.
Delusions
About six weeks later, Loughner bought the Glock semi-automatic handgun used in the shooting.
At another shop, staff refused to sell him ammunition because his behaviour was so erratic.
His one-time friend Zachary Osler told investigators of Loughner's increasing isolation and delusional behaviour.
"He would say he would dream and then control what he was doing when he was dreaming," Mr Osler said.
After his arrest at the scene, the gunman was polite and co-operative with police, the documents show.
Loughner was initially deemed unfit for trial because he suffered from schizophrenia and delusions, but that ruling was reversed after more than a year of treatment in prison.
The released documents also detail the bloody chaos of the gun attack, as Loughner approached the event outside a shop, where Ms Giffords was meeting constituents, and opened fire without warning.
Media organisations, including the Arizona Daily Star, campaigned to have the documents released, arguing that they were important to a national debate on gun violence.
Analysts say the details could influence discussion on whether such shootings can be stopped by armed resistance or happen too fast to be prevented in that way, and to what extent people with mental illness should be prevented from buying guns.