Ex-CIA boss David Petraeus sorry for 'inflicting pain'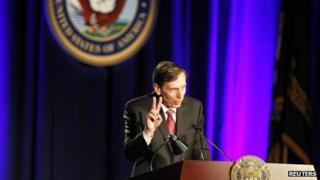 Former CIA chief David Petraeus has apologised to those he "hurt and let down", in his first public speech since resigning over an extramarital affair.
Mr Petraeus said at the University of Southern California his actions had caused "pain for family and friends".
But he said he hoped his fall would teach others that "life doesn't stop with such a mistake and must go on".
Mr Petraeus quit after his affair with biographer Paula Broadwell was discovered during an FBI investigation.
Mr Petraeus was speaking to about 600 guests at the University of Southern California's annual Reserve Officers' Training Corps dinner.
He received a standing ovation, then began his speech by saying: "Needless to say, I join you keenly aware that I am regarded in a different light now than I was a year ago."
Mr Petraeus said he was also "keenly aware that the reason for my recent journey was my own doing".
He added: "So please allow me to begin my remarks this evening by reiterating how deeply I regret - and apologise for - the circumstances that led me to resign from the CIA and caused such pain for my family, friends and supporters."
'Slipping my moorings'
Mr Petraeus has kept a low profile since resigning on 9 November.
His lawyer said Mr Petraeus had spent much of the time with his family.
A harassment complaint by Florida socialite Jill Kelley over emails she had received had led the FBI to unmask the affair.
Mrs Kelley knew Mr Petraeus through social contacts on the Florida military base where US Central Command is headquartered.
When the FBI investigated, it traced the emails to an apparently jealous Mrs Broadwell.
Mrs Kelley also knew the top US general in Afghanistan, Gen John Allen. He also sent emails to her but has been cleared of any misconduct.
Towards the end of his speech, Mr Petraeus said he hoped his experience "can be instructive to others who stumble or indeed fall as far as I did. One learns, after all, that life doesn't stop with such a mistake. It can and must go on".
He added: "I know that I can never fully assuage the pain that I inflicted on those closest to me and on a number of others.
"I can, however, try to move forward in a manner that is consistent to the values to which I subscribed before slipping my moorings and, as best as possible, to make amends to those I have hurt and let down."