Two teenagers arrested after baby shot dead in Georgia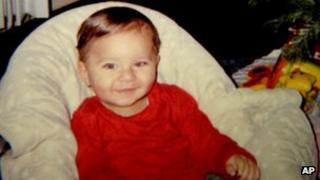 Two teenagers have been arrested in the US state of Georgia in connection with the killing of a 13-month-old boy on Thursday, police said.
Sherry West, who was shot in the leg in the attack, said two boys shot her baby in the head.
The suspects are aged 17 and 14, police said, and face murder charges.
Police said they had not found a weapon and were still investigating a motive for the crime, which shocked the small coastal town of Brunswick.
The elder suspect, who will be tried as an adult, was identified as Demarquis Elkins. Police did not publicly identify the younger suspect.
"We're trying to turn every stone to make sure we get a motive," Police Chief Tobe Green told reporters.
Ms West said the boys were trying to rob her before they opened fire.
She told the assailants that she did not have any money and tried to shield her son, Antonio Santiago, before shots rang out near her home on Thursday morning.
"He asked me for money and I said I didn't have it," Ms West said, as she wept in an interview with the Associated Press.
"When you have a baby, you spend all your money on babies. They're expensive. And he kept asking and I just said, 'I don't have it.' And he said, 'Do you want me to kill your baby?' And I said, 'No, don't kill my baby!'"
Police have not revealed what led them to the suspects, but earlier said they would check school attendance records.
The boy's father, Louis Santiago, told a local television station he wished he could have protected his family.
"He was special. He had the bluest, bluest eyes," he said.
In 2008, Ms West lost another son, 18-year-old Shaun Glassey, who was stabbed to death in an attack involving several other teenagers in the state of New Jersey.