South Carolina's Mark Sanford in political comeback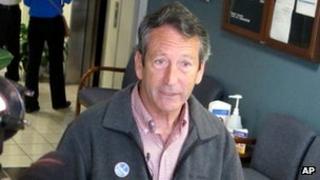 A former South Carolina governor, who had an extramarital affair while claiming to be hiking the Appalachian Trail, is staging a political comeback.
Mark Sanford won an initial Republican primary on Tuesday night for a congressional seat in his home state.
He will face a second vote early next month to decide the contest.
The eventual Republican candidate will face Democrat Elizabeth Colbert Busch, sister of TV comedian Stephen Colbert, in a May election.
Mr Sanford won a better-than-expected 37% of the vote, leaving the 15 other Republicans hopefuls trailing.
But under the rules he must face a run-off because he polled less than half of the vote.
'Treat and blessing'
Among the others hoping to be selected as Republican candidate for the 1st Congressional District seat was Teddy Turner, son of media mogul Ted Turner, who came a distant fourth.
Mr Sanford represented the district from 1995-2001, before he was elected governor.
Tuesday marked his first run for office since his public fall from grace in 2009 when he acknowledged an affair.
After disappearing for several days and telling his staff he was out hiking the Appalachian Trail, Mr Sanford returned to the state to admit that he had been in Argentina with a mistress.
Having divorced his wife, Jenny, he is now engaged to marry his former mistress, ex-TV reporter Maria Belen Chapur.
Mr Sanford defied numerous calls to step down immediately, staying in office until his term ended in January 2011.
Flanked by his four sons on Tuesday night, he told a noisy crowd at a restaurant in Charleston's historic district that it was "a treat and a blessing'' to be back on the ballot.
"We all hope for a second chance," he said after the vote. "I believe in a God of second chances."
Ms Colbert Busch was supported in her race to be the Democratic candidate by her younger brother, who plays a spoof conservative commentator on the satirical cable TV show, The Colbert Report.
He held a private fund-raising event on her behalf in Charleston.
The 1st Congressional District became available last year when Representative Tim Scott was appointed to the seat.
It had been vacated by Republican Senator Jim DeMint, who resigned to lead a conservative think tank, the Heritage Foundation.