Luka Magnotta collapses in court in body parts case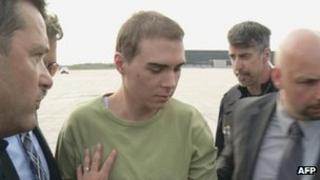 A Canadian man accused of killing and dismembering his Chinese lover and posting his body parts to politicians has collapsed at a court hearing.
Luka Magnotta, 30, seemed distressed and had asked for a break after prosecutors presented graphic evidence on Tuesday in a Montreal court.
Mr Magnotta, a pornography performer, pleaded not guilty to murdering Jun Lin, a university student, in May.
He is also accused of filming the death and performing sexual acts on the body.
In court on Tuesday, Mr Magnotta held his hand over his mouth and asked a court guard inside his glass defendant's box for a five-minute break.
After the judge agreed to an extended lunch break, Mr Magnotta stood, then collapsed to the floor, prompting the judge to suspend the hearing for the rest of the day.
"He really doesn't feel well and he's not able to continue," defence lawyer Luc Leclair told the judge, the Associated Press reported.
Evidence in the case is subject to a publication ban. But reporters in the courtroom said Mr Magnotta's eyes were closed for much of the hearing and at times he appeared to wipe away tears.
The purpose of the hearing, which has lasted several days, is to determine whether prosecutors have enough evidence to bring Mr Magnotta to trial.
The victim's father, Diran Lin, has been present in the courtroom at times but is reported to have left during presentation of the most graphic evidence.