Explosives found at Orlando university campus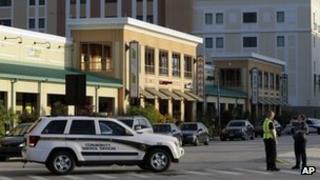 Authorities in the US state of Florida have evacuated hundreds of university students after finding explosives at the scene of an apparent suicide.
Police said they found improvised explosive devices and an assault weapon at a dorm in the University of Central Florida campus in Orlando.
They were called there after a fire alarm, and found a dead man with an apparently self-inflicted gun wound.
Some 500 students were evacuated, local media reported.
University officials have confirmed that the dead man was a student, the Orlando Sentinel newspaper reported. It is not clear where his body was found.
One student, David Lewis, told the newspaper that after several routine fire drills it was possible some students had not taken Monday's fire alarm seriously.
The university said in a statement on its website that all classes were cancelled until midday on Monday as a precaution.
Classes resumed after the explosive devices were safely removed from the dormitory.
Spokesman Grant Heston said they did not believe there was any imminent threat to the campus.