Canadian PM Stephen Harper considering Mali options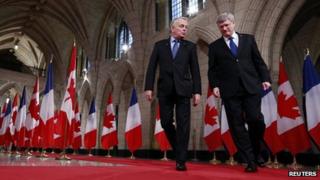 Canadian Prime Minister Stephen Harper says he is considering what Canada could contribute to ongoing efforts to fight Islamist militants in Mali.
Mr Harper stressed Canada was not interested in a combat role.
The country would continue the loan of a C-17 military cargo plane to France's military operations, "as long as we feel there is a need," Mr Harper said.
France is pushing for a UN peacekeeping mission in Mali to take over from French and African forces.
A vote on the potential mission is expected next month.
In a press conference with his French counterpart, Jean-Marc Ayrault, Mr Harper said: "We are not looking to have a combat, military mission there. We will certainly be providing development and humanitarian assistance."
He added that he was still discussing options with his cabinet and opposition parties.
The C-17 cargo plane first flew in the Mali operation on 15 January; Canada's government extended the mission last month until mid-March.
Mr Ayrault thanked Mr Harper for the "spontaneous" move to offer the plane.
"The C-17 plane that you lent the French forces allowed us to move troops quickly as well as provide good logistical support in very favourable conditions and to provide support to other countries too."
France intervened in Mali in January amid fears the militants were preparing to advance on the capital.