Gilberto Valle 'cannibal cop' trial ends in New York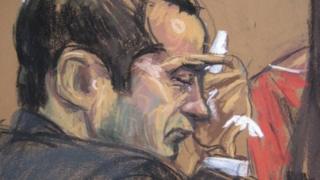 A jury has heard closing arguments at the trial of a New York City policeman accused of plotting to kill his wife and murder and eat other women.
Gilberto Valle's plans were "no joke" and "entered the world of reality", a prosecutor said on Thursday.
But defence lawyers argued he concocted a role-playing fantasy - "stupid, infantile, [sexual] storytelling".
Mr Valle, 28, is charged with conspiracy to kidnap and with using police databases to research targets.
'Fiction'
Prosecutors have told jurors Mr Valle had started taking steps to carry out his plans.
"It was not just sick entertainment," federal prosecutor Hadassa Waxman told jurors on Thursday.
He tried to contact some of the women mentioned in his plans, prosecutors say, and is accused of using a police department database to look up their personal information, emailing and texting them and meeting at least one of them.
Mr Valle also used the internet to research the best rope for binding people and to learn which chemicals render a person unconscious, and used search terms including human flesh and white slavery, prosecutors said.
"The law does not require that we wait until he carries out his crime," Ms Waxman said.
But his defence lawyer argued it was all "fiction" - Mr Valle never carried out the acts, purchased torture implements described in emails, nor met his alleged co-conspirators.
"Gil Valle is accused of a crime he didn't commit," defence lawyer Julia Gatto told the court.
During the trial Mr Valle's estranged wife Kathleen Mangan testified against him.
She said she found emails detailing his plans to slit her throat and kidnap and kill her friend, then fled to Las Vegas.