Los Angeles mayoral election under way amid low turnout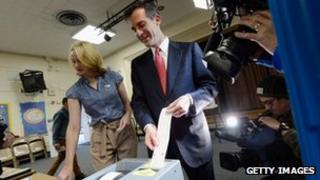 Los Angeles voters are dribbling into polling stations in an election promising the city's most sweeping leadership change in over a decade.
None of the five main candidates for mayor have polled far ahead in the race to replace Antonio Villaraigosa.
Amid turnout as low as 20%, eight council seats and other top city hall posts are also on Tuesday's ballot.
The election comes as America's second-largest city faces budget problems and overburdened public services.
The city lawyer, city controller and eight council seats are also on the ballot, as well as a proposal to raise the city's sales tax to 9.5%, one of the highest rates in the state of California.
Eric Garcetti, 42, and Wendy Greuel, 51 - both veterans of city hall - have been cited as mayoral candidates who might face each other in a run-off vote in May if no candidate wins a majority of the vote in Tuesday's election.
But Democratic Councilwoman Jan Perry, 57, and Republican former prosecutor Kevin James, 47, could inch into a runoff if turnout remains very low, analysts say.
Emanuel Pleitez, a 30-year-old technology executive, is seen as a long shot.
Voting rates in Los Angeles have historically been low.
Mr Villaraigosa was first elected in 2005.
The Los Angeles mayor must grapple with a powerful city council. And unlike in other US cities, the Los Angeles mayor does not have the power to make key city appointments such as police commissioner or school superintendent.