Oberlin cancels classes amid campus hate speech spate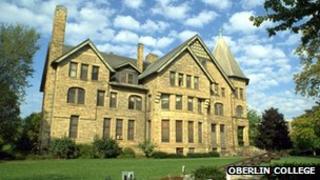 A historically progressive US university has suspended classes for a day in response to a series of apparent hate speech incidents on campus.
Oberlin College said it would hold "discussions of the challenging issues" while classes were cancelled on Monday.
Recently, a person was reportedly seen on campus wearing a costume resembling that of US racist group Ku Klux Klan.
In February, campus buildings were vandalised with reportedly racist and anti-gay messages.
Also in recent weeks, a Twitter account mocking the college president and making racist remarks emerged.
The incidents are being investigated by Oberlin security as well as by the city police.
Oberlin President Marvin Krislov said that early on Monday someone was seen near the college's Afrikan Heritage House in clothes resembling the infamous hood and white robe of racist group Ku Klux Klan.
"This event, in addition to the series of other hate-related incidents on campus, has precipitated our decision to suspend formal classes and all non-essential activities," Mr Krislov said.
The whole college would "gather for a series of discussions of the challenging issues that have faced our community in recent weeks," he added.
The college of about 2,800 students is located about 30 miles (48km) south of Cleveland, Ohio. It is frequently ranked among the most liberal and gay-friendly institutions in the country.