Barack Obama names energy, environment and budget heads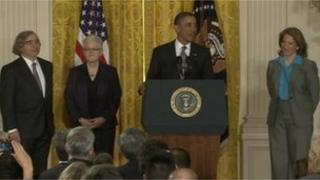 US President Barack Obama has nominated new heads for the energy department and the Environmental Protection Agency, as he reshuffles his second term cabinet.
He chose air quality expert Gina McCarthy to lead the Environmental Protection Agency and nuclear physicist Ernest Moniz as secretary of energy.
Also on Monday, Mr Obama nominated Sylvia Mathews Burwell as his budget director.
Later, the president held the first cabinet meeting of his new term.
Ms McCarthy and Dr Moniz must be confirmed by the Senate before taking up their posts.
Ms Burwell's nomination to lead the White House Office of Management and Budget comes amid tense negotiations in Washington DC over the federal budget, and just days after a series of deep, across-the-board spending cuts took effect.
Ms McCarthy currently serves as the assistant administrator for the environment agency's office of air and radiation. If confirmed, should will succeed Lisa Jackson.
Dr Moniz, who would follow Steven Chu as energy secretary, is a professor at the Massachusetts Institute of Technology.
Mr Obama said both nominees understood how to promote economic growth while protecting the environment.
"Ernie knows that we can produce more energy and grow our economy while still taking care of our air, our water and our climate," Mr Obama said at the White House.
He said Ms McCarthy had a track record of developing "practical, cost-effective ways" to keep air clean.
Mr Obama has made climate change and clean energy production priorities on his second-term agenda. He touched on the topics in two major addresses this year - his inaugural address and his State of the Union speech.