Ammar Harris arrested over Las Vegas shooting and crash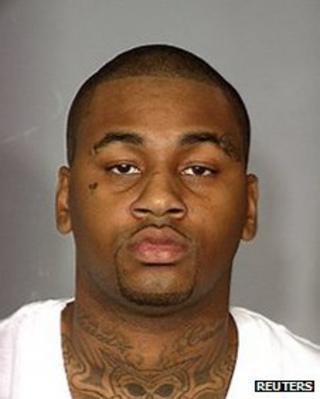 Police in California have arrested a man suspected of a shooting and multiple car crash that left three people dead in Las Vegas last week.
Ammar Harris, 26, was found in a flat in North Hollywood. His surrender ended a manhunt across several US states.
Mr Harris is suspected to be the driver of a black Range Rover who allegedly opened fire on a Maserati on the Las Vegas Strip on 21 February.
Aspiring rapper Kenneth Cherry Jr was killed at the wheel of the Maserati.
The Maserati then sped forward and crashed into a taxi, killing the driver and a passenger.
Earlier on Thursday, authorities said they had found and spoken to all three women who had been passengers in the Range Rover Sport when the shooting occurred.
None of the other passengers in the car have been charged in connection with the incident, police say.
In total, six vehicles were involved in last week's crash and several other people, including a passenger in the Maserati, were injured.
Police say the incident followed an altercation in the valet parking area at the Aria Hotel, a nearby hotel and casino.