Ali Syed named as California carjack killer gunman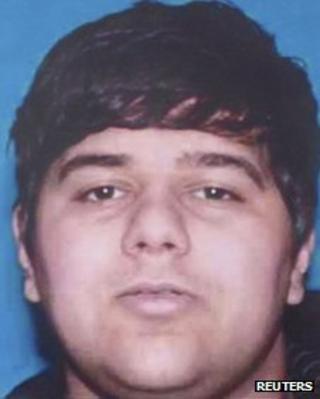 California police have identified a part-time student as the gunman who killed three and injured at least three more on a carjacking spree.
Ali Syed, 20, lived at the home outside Los Angeles where he killed his first victim on Tuesday, police said.
Syed then stole a series of cars and killed two other people before turning the gun on himself at a crossroads.
At least three others were injured in roughly 30 minutes of bloodshed, Tustin Police Chief Scott Jordan said.
The deceased victims have been identified as Jeremy Lewis, 26, Melvin Lee Edwards, 69, and an unidentified woman in her 20s who was unrelated to Syed.
A sheriff's spokesman said investigators were scouring six crime scenes in connection with the incident.
'Last day'
Before dawn on Tuesday, officers responding to an emergency call at a house in the community of Ladera Ranch, about 30 miles (48km) south of Los Angeles, found a female victim dead from multiple gunshot wounds, Orange County sheriff's spokesman Jim Amormino told the BBC.
Police later confirmed that Syed's family had been in that home at the time of the attack but said he fled the house in a black sport utility vehicle.
Police have not revealed the slain woman's relationship to Syed.
One carjacking victim told police the gunman pointed a shotgun and ordered him to hand over the keys, saying: "I don't want to hurt you. I just killed somebody and today is my last day."
From within that stolen vehicle, the gunman shot at other vehicles on a motorway in Santa Ana, injuring one person.
He then killed two other people in additional carjackings, one in Santa Ana, and one in Tustin.
The driver in Santa Ana, Melvin Edwards, was forced from his BMW at a red light, marched to a curb and shot dead as witnesses watched in horror.
"He was basically executed,'' Santa Ana police spokesman Anthony Bertagna said. "There were at least six witnesses.'' Another person was injured in the Tustin incident.
After calls to police poured in and highway officials spotted the suspect, officials attempted to stop the gunman at an intersection in the nearby town of Orange.
Syed killed himself as his car hit a kerb.
Authorities said they had no other suspects and had not established a motive for the attacks.
Syed was taking one course at Saddleback College and was otherwise unemployed, police said.