Ex-US mayor Maureen O'Connor 'gambled stolen millions'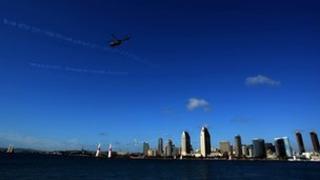 A former mayor of San Diego has agreed to repay millions of dollars pilfered from her late husband's charity to fuel a gambling addiction, prosecutors say.
Maureen O'Connor, 66, mayor from 1986-92, struck a deal with prosecutors to pay $2m (£1.3m) in restitution and to settle tax liability.
She must also receive treatment for her gambling addiction, prosecutors say.
If she meets the conditions of the deal, prosecutors say they will drop a criminal case against her in two years.
Federal prosecutors said Ms O'Connor suffered a range of health problems following the removal of a brain tumour in 2011, and all parties agreed she would not be well enough to stand trial.
"However, no figure, regardless of how much good they've done or how much they've given to charity, can escape criminal liability with impunity," US Attorney Laura Duffy said.
'$1bn won and lost'
Ms O'Connor was married to Robert Peterson, founder of fast food chain Jack in the Box. He created a charitable foundation before he died in 1994, court documents show.
Friends say Ms O'Connor's "grief gambling" began around 2001 and over the course of four years developed into an addiction, the Associated Press reported.
Her preferred game was video poker.
Prosecutors say that between 2000-09, Ms O'Connor won more than $1bn in casinos in Las Vegas, San Diego and Atlantic City, but took even bigger losses.
She mortgaged or sold most of her assets to pay off her debts and to continue gambling.
Between September 2008 and March 2009 she embezzled more than $2m from her late husband's organisation and, despite taking in some significant winnings, she "threw good money after bad" and continued to gamble, prosecutors said.
The foundation was eventually forced into bankruptcy in April 2009.