State of the Union: Obama takes speech's message on tour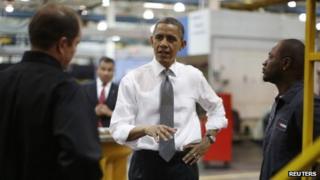 US President Obama is visiting three US states to rally support for an increase in the minimum wage and investment in manufacturing and infrastructure.
Barack Obama's tour, which began on Wednesday in North Carolina, follows Tuesday's State of the Union address.
In that speech, he called for measures to strengthen the middle class, as well as gun restrictions, immigration reform, and action on climate change.
But Republicans on Wednesday criticised the proposals as shop-worn and tired.
"An opportunity to bring together the country instead became another retread of lip service and liberalism," Senate Minority Leader Mitch McConnell said on the Senate floor on Wednesday.
"Last night's speech was a pedestrian liberal boilerplate that any Democratic lawmaker could have given at any time in recent history."
'Our job'
On Wednesday, Mr Obama began a trip that will swing though three states: North Carolina, Georgia and Illinois, in an effort to promote the proposals laid out on Tuesday in his annual State of the Union address.
At a manufacturing plant in Asheville, Mr Obama reiterated his call for the federal minimum wage to rise to $9 (£5.79) per hour from $7.25, saying that Americans who work full time should not live in poverty.
He also touted the facility, run by Canadian company Linamar Corp, as an example of how America could attract jobs from abroad.
"Our job as Americans is to restore that basic bargain that says if you work hard, if you're willing to meet your responsibilities, you can get ahead," he said.
In his speech on Tuesday night, Mr Obama also proposed a raft of new initiatives to improve pre-school programmes, cut waiting times at polling places, boost manufacturing, and reduce energy use.
'Harder to hire'
Republicans were unimpressed.
Wisconsin Congressman Paul Ryan, one of the Republican Party's biggest stars and its 2012 vice-presidential candidate, said the president "seems to always be in campaign mode".
"He treats people in the other party as enemies rather than partners," he said on CBS News on Wednesday.
House Speaker John Boehner said that immigration reform was the only issue on Mr Obama's State of the Union list that had any chance of passing Congress this year.
And on Wednesday, he criticised the president's minimum wage proposal.
"At a time when the American people are still asking the question, where are the jobs," he said, "why would we want to make it harder for small employers to hire people?"
Mr Obama will travel to Atlanta, Georgia on Thursday and to his hometown of Chicago, Illinois on Friday, urging action on other points on the agenda he laid out on Tuesday.