Alabama hostage-taker died 'in firefight'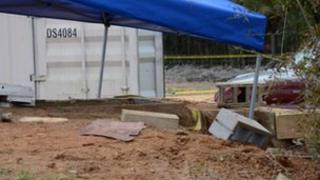 The Alabama man who held a five-year-old hostage in an underground bunker for nearly a week was killed during a firefight with police, the FBI says.
FBI Agent Jason Pack said Jimmy Lee Dykes "reinforced the bunker" and that police found two explosive devices.
Dykes abducted the boy, named Ethan, last Tuesday after shooting dead the driver of his school bus.
The child was unharmed but taken to hospital after authorities raided the bunker on Monday.
On Wednesday, the boy celebrated his sixth birthday.
His grandmother told the Associated Press that, while he was fine physically, she feared the ordeal could stay with him.
"For the first time in almost a week, I woke up this morning to the most beautiful sight... my sweet boy," Betty Jean Ransbottom said. "I can't describe how incredible it is to hold him again."
The standoff began last Tuesday after the 66-year-old bus driver, Charles Albert Poland, tried to stop Dykes boarding the bus and seizing two young boys, aged six and eight.
Witnesses said Dykes, who knew Poland personally, fired four shots, killing him, and took the five-year-old at random.
Poland's funeral was held on Sunday, with the local school system hailing him as a hero.
During the six-day standoff, negotiators talked to Dykes and delivered medication and toys to the boy through a 4in (10cm) ventilation pipe.
Mr Pack said that officials found an explosive device inside the pipe, as well as another device inside the bunker.
At an earlier news conference, the FBI said that officials had decided to raid the bunker after negotiations deteriorated and Dykes was seen holding a gun.