Teenagers lose fingers in tug-of-war accident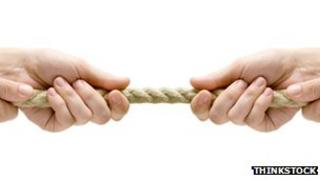 Two teenagers whose fingers were cut off in a game of tug-of-war at a school in California are awake and alert after surgery, a medical official says.
But it is not clear if doctors have been able to reattach the boy and girl's fingers.
The two, both aged under 18, were participating in a lunchtime game of tug-of-war at South El Monte High School near Los Angeles on Monday.
Authorities say the students lost four fingers each on their right hands.
In addition, the girl lost her left thumb, they said.
'Rope snapped'
There was a discrepancy with the account of the sheriff, who said the girl lost three fingers from her right hand and two fingers on her left.
The rope was wrapped around the students' hands when it snapped, cutting off their fingers, a fire official told NBC News.
"Somehow they got their hands tied up on the rope," he said.
It is not known how many others were competing in the game.
Meanwhile, the school district superintendent said that classes would continue on Tuesday, and counselling would be available to pupils.
Accidents like this have happened before. In 2008, a girl lost four fingers in Minnesota, but they were successfully reattached.
In Colorado in 2007, two students partially severed their hands in a tug-of-war.