Canada naval spy apologises to family before sentencing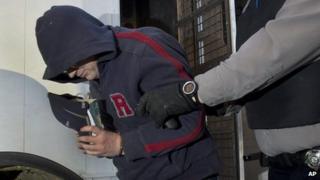 A Canadian navy intelligence officer who sold military secrets to Russia has apologised to his family, at a court hearing in Halifax, Nova Scotia.
Sub-Lt Jeffrey Paul Delisle, 40, pleaded guilty in October to espionage.
He told the sentencing hearing: "I love them very much. If I could go back in time, I would. But I can't."
Delisle ended up receiving almost C$72,000 (£45,700) over nearly five years for the covert relationship with Russia.
Prosecutor Lynn Decarie is asking for a 20-year prison term, saying Delisle abused the trust of his family, colleagues and Canada's allies.
Ms Decarie cited testimony from three top military and security officials who said that Delisle's actions caused "severe and irreparable" damage.
"I believe there was very serious harm done to Canada," she said.
Defence lawyers said their client should get no more than 10 years, given the collapse of his marriage around the time he offered to give information to Russia in 2007.
Delisle worked at a naval intelligence centre, where he had access to shared information between Canada, the US, the UK, Australia and New Zealand.
According to prosecutors, he transferred any Russian reference from his work computer to a USB key, sharing it with a Russian handler through email.
Canada has sought to reassure allies following Delisle's arrest last year.
The judge will hand down a sentence next Friday.