Police step up presence in Alabama hostage standoff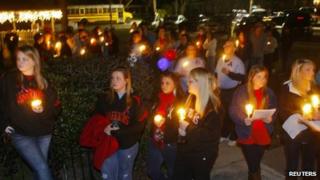 Police have stepped up their presence near an underground bunker where an Alabama man is holding a five-year-old boy hostage.
A team in military-style uniforms, many with weapons, moved into a staging area nearby on early Friday.
Jimmy Lee Dykes, 65, is accused of boarding a school bus and shooting the driver before taking the boy.
Officials are talking to Mr Dykes and delivering medication to the boy through a 4in (10cm) ventilation pipe.
The incident began in Midland City on Tuesday afternoon when the bus driver refused to hand over the child, whom Mr Dykes apparently snatched at random.
'Crying for his parents'
"The three past days have not been easy on anybody," Dale County Sheriff Wally Olson said late on Thursday. "There's no reason to believe the child has been harmed."
Mayor Virgil Skipper said he has been briefed by officials and visited the boy's parents.
"He's crying for his parents," he said. "They are praying and asking all of us to pray with them."
Steve Clouse, a local lawmaker, said the boy's mother had told him her child has Asperger syndrome, as well as attention deficit hyperactivity disorder.
According to witnesses, the kidnapper pounced when the school bus stopped to let off two children.
Mr Dykes grabbed the door so it could not close and came on board, demanding two boys aged six and eight.
When the 66-year-old driver, Charles Albert Poland, blocked the bus aisle with his arm, Mr Dykes allegedly fired four shots, killing him.
The bus driver's brother-in-law, Melvin Skipper, told local media: "You couldn't give nothing greater than your life for a kid or anyone else. That's a hero."
According to court records, Mr Dykes was due to appear in court on Wednesday for menacing neighbours as they drove past his house some weeks ago.
Other neighbours said he had once beaten a dog to death with a lead pipe, threatened to shoot children for setting foot on his property and patrolled his yard at night with a flashlight and a firearm.
Court records showed Mr Dykes was arrested in Florida in 1995 for improper exhibition of a weapon, but the charges were dismissed.