Manti Te'o hoaxer Ronaiah Tuiasosopo loved player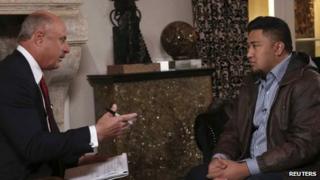 A man who admitted creating a fake online girlfriend in a hoax involving US college football star Manti Te'o says he was in love with him.
In an interview with the Dr Phil Show on Thursday, Ronaiah Tuiasosopo, 22, acknowledged the ploy was cruel, but said it was not intended as a joke.
Mr Tuiasosopo said he did not gain financially and Te'o was not involved.
The hoax was revealed after a sports website reported it could find no record Lennay Kekua had ever existed.
"As twisted and confusing as it may be, yeah, I cared for this person," Mr Tuiasosopo told presenter Phil McGraw in the first part of the interview, which was aired on Thursday.
"I did all that I could to help this person become a better person, even though I wasn't getting nothing out of it."
Like a 'recovering addict'
Kekua had supposedly died of leukaemia in September, within hours of 21-year-old Te'o's real-life grandmother, who passed away after a long illness.
The college football star said at the time that the death of his online girlfriend had inspired him to lead Notre Dame university on its march to the national championship game. His story was widely featured in the US sports media.
Mr Tuiasosopo said he killed Kekua's character after an argument with Te'o, in which the football player had told her he did not need her.
But he decided to confess to the hoax as the story began unravelling, and because he needed to move on with his own life, Mr Tuiasosopo said.
"You've heard of recovering drug addicts? It takes a lot of courage to stand and say that," he said.
"To recover from homosexuality and this type of thing. Not only that, coming back to your real life, as hard as a task as that is, I'm going to do all that I can to live right," Mr Tuiasosopo said, adding that he believed Te'o had become a better person as a result of the relationship.
Mr Tuiasosopo has said he used his own voice when pretending to be Kekua and the Dr Phil Show has said it will air a clip of it during part two of the interview on Friday.
Te'o has denied involvement in the hoax, and his family has not commented on Mr Tuiasosopo's story.
Te'o has said he learned about the hoax on 6 December, after receiving a call from the voice he believed belonged to the dead Kekua.
An Associated Press review of news coverage found that the football star talked about Kekua in an online interview on 8 December and again in a newspaper interview published 10 December.
Notre Dame officials have said they also learned of the hoax in December, but they stayed quiet until after it was revealed in a report on sports news website deadspin.com.