Fiscal cliff: John Boehner firm on debt limit demand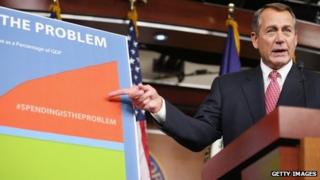 House Speaker John Boehner has rejected a demand by President Barack Obama for powers to raise the debt limit, as part of talks on the "fiscal cliff".
Mr Boehner said the president was "unserious" about reaching a balanced deal with concessions to both parties.
Year-end tax rises and deep spending cuts could harm the fragile US economy if allowed to take effect.
But lawmakers are becoming concerned that, with just 18 days to go, time to pass a deal in Congress is running out.
In his weekly news conference, the top Republican in Congress said Washington's "spending problem" was the biggest roadblock to reaching a deal, and urged the White House to identify more savings.
'Controlling the purse'
"The president wants to pretend spending isn't the problem. That's why we don't have an agreement," Mr Boehner said.
He added: "If the president will step up and show us he's willing to make the spending cuts that are needed, I think we can do some real good in the days ahead."
He also said that the current White House plan would increase taxes without offering enough in terms of spending cuts to please Republicans.
Mr Boehner threw out any suggestion that Congress would give up its right to control how much money the government can borrow - a request the White House has included in its plan.
"Congress is never going to give up our ability to control the purse," the Ohio congressman said.
"And the fact is that the debt limit ought to be used to bring fiscal sanity to Washington, DC."
The Treasury is expected to hit its current borrowing limit early next year, and would need congressional approval to increase the debt limit further.
In 2011 congressional gridlock over the issue brought the US to the brink of a debt default, and contributed to a downgrade in its credit rating.
Meanwhile on Thursday, Mr Obama sounded a more positive note, telling reporters a deal was "still a work in progress", as he walked from the White House to a staff holiday party close by.
Later on Thursday Mr Obama was due to record interviews with regional news stations to promote his plan.
Mr Obama and Mr Boehner have been negotiating directly on the matter. They held private, face-to-face talks at the White House on Sunday and spoke by phone on Tuesday.
'Ripple effects'
The president's proposal to avoid the fiscal cliff calls for $1.6tn (£990bn) in new tax revenue over 10 years, and Mr Obama has insisted that he will not sign a deal that does not raise tax rates on earnings over $250,000.
Mr Boehner has said that he is prepared to consider increasing tax revenue - by closing loopholes and limiting deductions rather than raising rates.
A Republican counter-offer made last week would aim to collect $800bn in revenue by closing tax loopholes and deductions.
It would also reduce government spending by $1.4tn, raising from 65 to 67 the age of eligibility for Medicare, a popular healthcare programme for the elderly, and by changing the way annual increases in Social Security payments are calculated.
But some Democrats have indicated they are not prepared to consider such changes to major government provisions.
Extended benefits for the long-term unemployed and a temporary cut to payroll taxes are also scheduled to expire at the end of the year.
Business leaders and Ben Bernanke, chairman of the US Federal Reserve, have warned that uncertainty over the fiscal cliff is already having a negative effect on the economy.
International observers, including Christine Lagarde, head of the International Monetary Fund, have warned that effects of going over the fiscal cliff would ripple out to the rest of the world.