New York bomb plot suspect Nafis pleads not guilty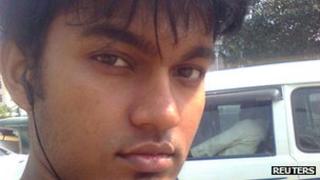 A Bangladeshi man accused of wanting to set off a huge bomb outside the Federal Reserve in New York has pleaded not guilty to terrorism charges.
Quazi Mohammad Rezwanul Ahsan Nafis, 21, was arrested after allegedly trying to leave what he thought was a 1,000lb (454kg) bomb outside the bank.
The device was a dummy containing parts provided by an undercover agent.
The suspect is charged with attempting to use a weapon of mass destruction and providing material support to al-Qaeda.
Prosecutors have accused him of travelling to the US in order to carry out an attack and attempting to recruit people to join a terrorist cell.
Mr Nafis arrived in the US on a student visa in January and was living in Queens, New York, before his arrest.
His father told the BBC last month that the allegations against his son were "totally false", and that Mr Nafis went to the US to study.
The arrest was the latest in a growing number of high profile "sting" operations run by the FBI and counter-terrorism authorities in the US.
An undercover FBI agent sold Mr Nafis 20 bags of what he said were 50lb of explosives.
The suspect then allegedly bought and assembled detonators and timing devices.